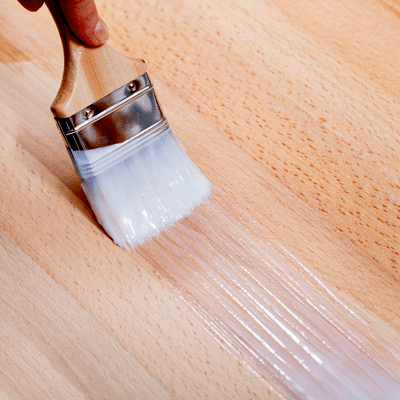 There are many kinds of products to choose from for wood finishing. The most common are varnish, conversion varnish, lacquer, and catalyzed lacquer. When it comes to the furniture we offer, most pieces are finished with either conversion varnish or catalyzed lacquer.
Varnish is made of synthetic resins that have been modified with drying oils. Varnish cures slowly through polymerization, a process that strengthens the finish. Varnish surpasses most other finishes in its resistance to water, heat, solvents, and other chemicals. Additionally, due to it's ease of application, it is a popular choice for DIY'ers.
Conversion varnish is a fast-drying varnish that comes in two parts, the varnish and an acid catalyst, the catalyst accelerates the cross-linking as it cures. This produces an exceptionally durable finish with excellent protection against water, heat, solvents, and other chemicals, making this an ideal finish for table tops. However it is difficult to apply and requires special equipment and is only used in professional shops.
Nitrocellulose lacquer is the most common lacquer and is made from an alkyd and nitrocellulose resin dissolved and mixed with solvents. This type of lacquer has moderate water resistance, but is sensitive to heat and certain solvents.
Catalyzed lacquer bridges the gap between ease-of-application and durability. A catalyst initiates a chemical reaction forming a very durable finish. This makes catalyzed lacquer an excellent general furniture finish because it provides protection against wet and dry heat.
So you may wonder which finish is right for you. We feel that when it comes to table tops you can't do better than conversion varnish for protection and durability. For case goods, such as dressers or bookcases, the general protection and ease of care make Catalyzed lacquer a great choice.