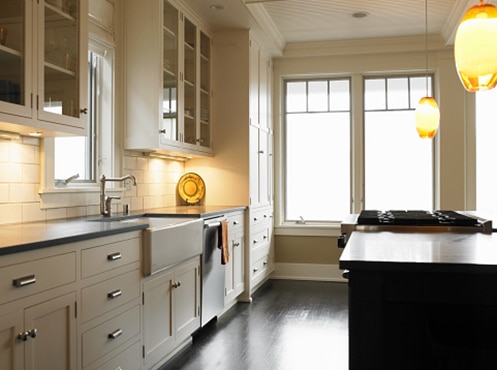 Tips for Choosing the Right Lighting for Your Home
Lighting is one of the most important elements of a home. Proper lighting affects the functionality and feeling of a space, which is why it's important to choose it smartly. Here are some tips to consider when planning the lighting around your home.
Determine what kind of lighting you want/need.
Each room should have a mood you want to set with the lighting. Think about task lighting, accent lighting, decorative lighting, and ambient lighting. Task lighting (direct lighting) is focused on a space that you are trying to work at whereas ambient lighting (indirect lighting) is used to light an overall space for ambiance. You can play around with decorative and accent lighting to draw the eye to artwork, houseplants, wall textures, and other possessions.
Use multiple light sources.
For larger rooms where people commonly gather like the kitchen, family room or bedroom, use multiple light sources to create a visual variety. For example, in the living room instead of using an overhead light, try using floor lamps around your living room furniture and accent lighting. These rooms are great to play around with decorative lighting to accent a piece of artwork or picture frame. While you're at it, you can play around with arranging your living room and bedroom furniture to compliment the lighting.
Use lighting for safety and security.
When choosing lighting for your stairways, halls, and perimeter of your house, keep in mind that you will need good lighting for safety. These are good spaces to use ambient lighting as it isn't too dim nor too bright. Floor lights work great for walkways and outdoor wall scones can provide splashes of ambient light in the evening hours.
Don't forget about the bathroom!
Last but certainly not least, is proper bathroom lighting. This room typically has the worst lighting as people don't want to invest time and money into a room where they spend little time. Often times people use one ceiling fixture to light up the shower, sink, and mirror. Adding lighting fixtures around the mirror can eliminate shadows on your face and provide ample lighting for getting ready in the morning.
Don't be afraid to play around with your home's lighting. Move around some lamps and try new fixtures. Lighting should enhance your space but also make it feel comfortable and inviting.