Toscana Cotton Caresse Dual 9 Mattress






Additional information
Cotton Caresse Dual 9 of the Toscana collection is dedicated to those seeking relaxation while also being respectful of the environment. Cotton Caresse offers an all-natural comfort and firm support at 9" of height. The GOTS certification issued by the Institute for Ethical and Environmental Certification is proof that the fabric used in the cover is made of certified organic materials.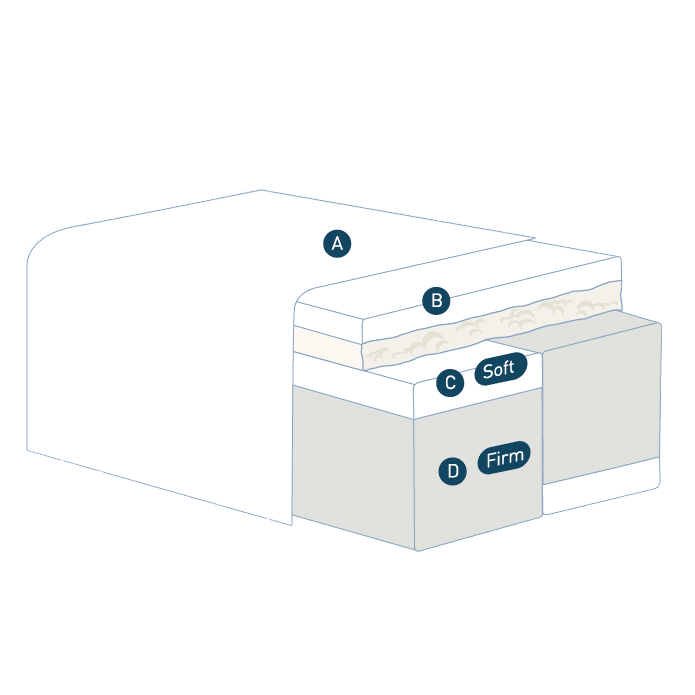 A. Cover
The organic cotton cover, which is removable and easy to dry-clean, is cool and soft to the touch and guarantees maximum breathability. The special 3D band around the perimeter ensures greater breathability, resulting in a fresh night's sleep.
B. Padding
The Memoform foam adapts to the shape of the body in the most natural way. The hypoallergenic and breathable fiber offers added comfort
C. Comfort level
The Dual Core technology makes it possible to experience 2 different levels of comfort simply by flipping the cores. The "Medium Soft" side offers a cozy and anatomical comfort, due to the layer in Memoform (1″), while the "Medium Firm" side offers a firmer support, thanks to the layer in Elioform.
D. Base layer
The layer in Elioform (8″) is enriched with essential oils and offers balanced support to your back. Due to its composition, it ensures the perfect alignment of the shoulders, back and limbs.
The mattresses of the Toscana line feature our innovative Dual Core technology, ensuring optimal sleep for couples. With the Dual Core technology, both partners can choose the comfort that is right for each of them by simply unzipping the cover of the mattress and flipping the inner cores to select their favorite comfort level. The Dual Core technology is available in both Queen and King sizes.